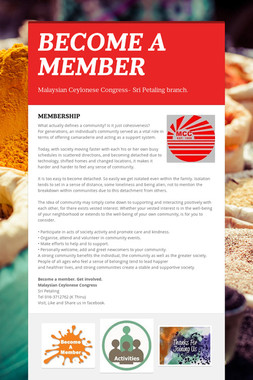 Renew

your membership.
Become

a new member

.

Encourage

new members from your family, relatives, work place and social circles.
The Sri Petaling Branch is returning to its star shine and reality days. T

ogether, there is much that we can do for and within our community, our society and for ourselves as well.
Membership can be spread and include all of us residing in Sri Petaling, Puchong, Sri Kembangan, Serdang, Sepang as a whole and include
Cyberjaya,
Putrajaya and
Selangor.
www.facebook.com/mccsripetaling is filled with news of its past activities.
We have organiseed and we can organise more as well as participate in activities
(1

) promote care and kindness in charitable projects and activities.
(2) Organise, attend and volunteer in our own community events
(3) Our own tours, networking and both personal and business development.
The idea of community may simply come down to supporting and interacting positively with each other, for there exists vested interest. Whether your vested interest is in the well-being of your neighborhood or extends to the well-being of your own community, is for you to consider.

• Participate in acts of society activity and promote care and kindness.
• Organise, attend and volunteer in community events.
• Make efforts to help and to support.
• Personally welcome, add and greet newcomers to your community.


A strong community benefits the individual, the community as well as the greater society. People of all ages who feel a sense of belonging tend to lead happier
and healthier lives, and strong communities create a stable and supportive society.
WELCOME. Be the member.
Introduce many others and grow your branch with newcomers. Get involved.
Malaysian Ceylonese Congress,

Sri Petaling
Tel 016-3712762 (K Thiru)